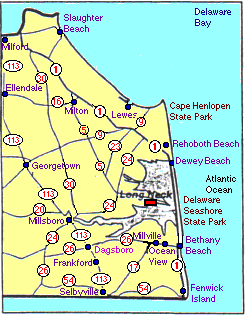 Georgetown: Located at the heart of Sussex County. Georgetown is the county seat where individuals and businesses from across southern Delaware meet for work and play. Many enjoy calling Georgetown home because of the central location and beautiful rural scenery.
Lincoln: A small unincorporated community in the northern part of Sussex County in Delaware. It is part of the Salisbury, Maryland-Delaware Metropolitan Statistical Area.
Milford: This is a city that feels like a town. There is everything from a giant Super Walmart to an assortment of small boutiques as well as all of the restaurants you know and many family owned restaurants that will quickly become your favorites. Health care is easily accesible at Bay Health Hospital and Emergency Center.
Millsboro: A small rural town that is essentially surrounded by water with Millsboro Pond, Ingrams Pond, Betts Pond and the Indian River. This charming town was established in 1792 and eventually incorporated in 1893.

Milton: This town calls itself "Delaware's Smallest Wonder" and is a classic example of life in a small historic town. There is an extensive Victorian home district, shops and dining in a relatively rural area.
Local Events: Check out the local events in these areas!